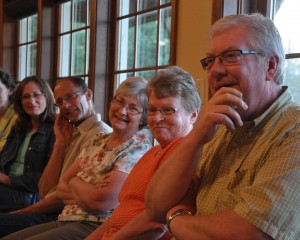 As growing followers of Jesus we look to travel with others as learn to live out the truth of God's Word. That's what we do in the Faith Bible Adult Education Ministry. These classes meet during both Sunday morning worship services and re-form with new conveners and topics at the beginning of each quarter.
In all our adult classes we aim to help growing followers of Jesus think "Christianly" about all of life. We do this by means of three pursuits: Bible study, operational theology and worldview witness—WORD, WISDOM and WITNESS, for short.
In WORD classes we learn to study the Bible for ourselves. These classes emphasize the content of individual books of the Bible and the way the books relate to one another, as well as the method we use to arrive at a proper understand of the teaching of each book. WISDOM classes help us operate according to biblical truth in our day-to-day lives. WITNESS classes help us learn to speak the truth of God's Word back into life through our different roles and relationships.
Adult education classes take place during the 9:00 and 10:45 worship services. In the present spring 2015 quarter we're offering the following adult education classes during the 9:00 and 10:45 hours.
When you visit us at Faith, stop by the Welcome Center for help on how to join our adult education classes during both our worship services.